The Laurels of Hudsonville - A Skilled Nursing & Rehabilitation Center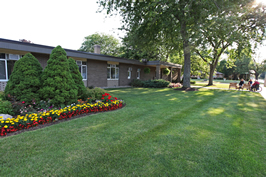 The Laurels of Hudsonville is a 108-bed skilled nursing and rehabilitation center with a recently renovated rehabilitation gym and private rehabilitation suites. We are located in a quiet residential neighborhood in Hudsonville, halfway between Grand Rapids and Zeeland, Michigan near Zeeland Hospital and minutes from an interstate highway that leads to the downtown Grand Rapids hospitals.
Our team of professionals is dedicated to promoting the highest level of independence and quality of life for our guests by creating a comfortable living environment and providing comprehensive health-care services.
The Laurels of Hudsonville provides a complete range of short-term stay services from rehabilitation to hospice care. We focus on the physical, social and emotional needs of our guests with a variety of medical programs provided in a home-like environment, and our short-term rehab programs in areas such as cardiac recovery and orthopedics speed each guest's journey from hospital to home.
Our long-term care program focuses on the well-being of each guest and his or her unique needs. We provide comforting meals, stimulating daily activities, and holiday and birthday celebrations that often include family.
Laurel Associates approach every guest, every day, as a treasure whose life should be interesting, lively and satisfying. We consider it our responsibility as emissaries of The Laurel Way of Caring, which is founded on a commitment to respect, dignity, companionship and compassion for every guest.