Exceeding Expectations at The Laurels of Hudsonville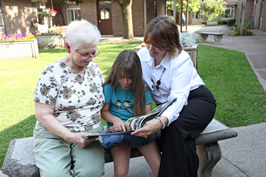 At The Laurels of Hudsonville, it is our mission to create a legacy by exceeding the needs and expectations of those we serve while embracing The Laurel Way. We understand that caring is more than providing excellent medical and guest services. It also includes being a companion and treating each guest with the utmost dignity, respect, and compassion.
"The Laurel Way of Caring" can be found in a warm smile, a kind word, or a comforting touch. We are passionate about our mission, and it is reflected in the letters we receive from guests and family members.
"Thank you so much for making it possible for me to get to the birthday party for my 3 grandsons. Thanks to Jerry for driving me in the bus to my son's home to take part in the party. Thank you so much for your kindness!"

Jody
"I came from Spectrum Health Hospital for rehabilitation for my leg. I got very good care from therapy department. The people were kind and understanding. I thank them all very much for all their help they gave me."
"You keep our family member safe! This means so much to us, as we could no longer do that."
"Your facility was the only one available. What a blessing that you are such a great fit for our family member."
"You show respect to the guests. Your staff is caring and friendly. The rehab unit is outstanding. Your meals are very good, even for picky guests like my Mother. Your office manager does an outstanding job keeping bills straight. Your Social Workers work very hard to solve guest's problems."
"Activities Department does a wonderful job. The dining area is very appealing."