Extended Stays and Long-Term Care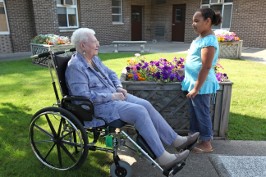 Extended and long-term care stays are appropriate for individuals that require greater levels of care and support than can be provided at home or within an independent living setting. Laurels guests typically need assistance with their daily activities due to physical and/or cognitive limitations.
At The Laurels of Hudsonville, our guests receive around-the-clock nursing care, nutritious and appetizing meals, and a broad variety of recreation and leisure opportunities as well as access to our recently renovated Rehabilitation Gym. Our goal is for our guests to achieve their highest possible level of independence and quality of life within a comfortable living environment. We refer to this as the Laurel Way of Caring.
Please contact the Director of Marketing at The Laurels of Hudsonville to discuss how our services may fit your needs.
Memory Care Program
Dialysis Support
Palliative Care Program
Parkinson's Disease Program
Post Assisted Living Care
Prepare Program
Restorative Care
"You keep our family member safe! This means so much to us, as we could no longer do that."